High-Quality Commercial Concrete & Brick Washing For Goshen Businesses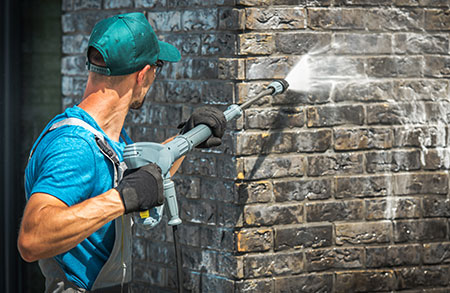 Keep your Goshen business hardscape surfaces looking phenomenally fresh with commercial concrete and brick washing pros at Sparta Soft Wash. We proudly serve our friends and neighbors with high-quality pressure washing equipment and innovative cleaning methods, working hard to take your commercial exteriors to a whole new level of clean.
The look of freshly cleaned concrete and brick really highlights the look of your business. The effects of elements like UV light, salt air, and our harsh New England winters can take a heavy toll on the look of your hardscapes, making them look dull and uninviting. When these surfaces have lost their vitality, it's time to bring in the cleaning pros at Sparta Soft Wash. We'll use state-of-the-art equipment to remove the contaminants that invade your concrete and brick surfaces that can lead to erosion and damage the integrity of your porous outdoor spaces. Our reliable pressure washing technicians are up-to-speed on the latest techniques and applications so they can offer you the highest-quality service available. We can safely remove a variety of contaminants from your commercial concrete and brick surfaces, including:
Driveways, curbs, sidewalks, and walkways
Parking lots and parking garages
Building exteriors
Retaining walls
And more
For a fraction of the cost of expensive re-surfacing, concrete and brick washing from the pros at Sparta Soft Wash will enhance your curb appeal and elevate the value of your business in Goshen.
Keep A Safe & Healthy Workplace With Pressure Washing
The benefits of concrete and brick washing are not purely aesthetic. While having a beautifully clean business exterior is important for first impressions and creating a pleasant space, it can also help promote safety and health. By removing harmful organisms that can irritate allergies, inflame respiratory issues, or present trip hazards, clean concrete and brick create a safe, welcoming outdoor environment for your employees and customers to enjoy. Sparta Soft Wash has the skills, the know-how, and the expertise to remove invasive organisms like mildew, mold, and algae from your concrete walkways, gathering areas, and entry areas, creating healthier spaces for your neighbors, clients, and guests. You'll be amazed by the bright clean we bring your commercial surfaces with our pressure washing services! Don't forget to ask about our dumpster pad cleaning services when you want every inch of your business to sparkle- even your dumpster area.